Coquitlam Appraisals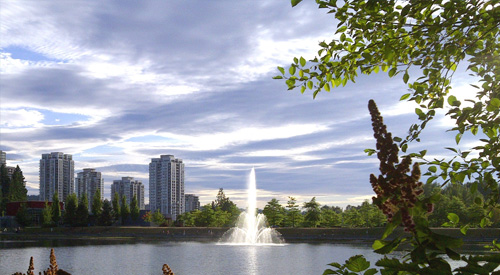 Accustar is proud to offer its residential real estate appraisal services for properties in the City of Coquitlam. Accustar appraisers have comprehensive knowledge of Coquitlam properties and market trends in the area.
About Coquitlam
European settlement of the area began in the 1860s. Coquitlam began as a "place-in-between" when North Road was constructed in the mid-1800s to provide Royal Engineers in New Westminster access to the port facilities in Port Moody. Coquitlam got a boost of development in 1889 when Frank Ross and James McLaren opened what would become Fraser Mills. The small mill town incorporated in 1908. In search of experienced workers, mill owners recruited workers from Quebec. In 1910 Maillardville was born and was the largest community of Francophone west of Manitoba. Growth in the area was gradual until the construction of the Lougheed Highway in 1953.
Coquitlam's geographic shape can be thought of as a tilted hourglass, with two larger parcels of land with a smaller central section connecting them. Southwest Coquitlam comprises the original core of the city including Maillardville. The Austin Heights area contains Como Lake, a renowned urban fishing and recreation area. Coquitlam Town Centre is the designated town centre and is intended to have high-density housing, offices, cultural, entertainment and education facilities. Westwood Plateau which began development in the 1990s accommodates 4,525 upscale homes.
Coquitlam displays a mix of single family homes, low rise and high rise apartment units and townhomes as well as agricultural, industrial and commercial facilities. With development on Westwood Plateau completed and the opening of the David Avenue Connector in 2006, Coquitlam's primary urban development has now shifted to Burke Mountain in the northeastern portion of the city.
Visit the
City of Coquitlam's
website.